Now we have quite a selection of dogs (5 at the moment) and each every one is very different in character. Even the three Danes, Wallace, Bismarck and Cosmo are very unlike each other in many ways. Cosmo is still very young 6.5 months but has done a fabulous job so far in terms of training and shows a lot of eagerness to please.
Bismarck (19 months) is a true couch potato - he has the occasional zoomie session but generally is very easy 'to steer' ad control. Wallace (26 months) is a true MACHINE!
He certainly has a fair amount of the foundation Dane still in him and is a passionate hunter. He also has an astounding stamina and regularly goes out for long distance cross-country runs with MOH (with his vets permission!).
He goes mental when one of us outs our running shoes on and he will clear tree trunks and fences like a show jumper. When out in the wild, he is in his element - truly.
Now this has meant that A LOT of hours of training have been spent on the blue gentlemen. He does learn quite quickly, but he is a cheeky chap and WILL seize the moment if he sees a chance. He is perfect with people and other dogs big, small, flufffy the lot, BUT I would never ever trust him around sheep, deer etc.
To cut a long story short, we have been working up to today for a LONG time. This morning we put our hard work to the test and put the cat amongst the pigeons - or in better words, put the Dane amongst the sheep. And what a good job Wally did!
We only used a bottle filled with pebbles that we rattled to correct unwanted behaviour. For safety, he also wore a remote spray collar that we had purchased for the occasion, however we did not have to use it. Note that he did try to have a go towards the end of the clip but was quite easily corrected with two rattles.
P.S. Needless to say that we had permission from the farmer.
Enjoy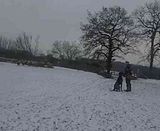 Suzy xxx